In a mere two days, I will be flying my way across the country, jetsetter style. I know you're jealous, because you poor little underlings have no clue what it's like to fly Air Chanel. Pity really, but we fabulous people have better things to do than fly coach. How common. Anyways, I mustn't bother myself with your tribulations, no matter how considerate and caring I may be. I have my beautiful self to take care of, and that is a job in it's own right. Anyone who's lucky enough to have seen me in the flesh knows that every square inch of my body is pampered, and it is true what they say, it's exhausting being fabulous. But back to the pressing matter at hand. No matter what your position on the social & financial hierarchy, you know that what you pack for a trip can make or break your would-be glamorous vacay. Personally, I can just call up Karl and have him send me a much-needed item if ever I forget, but we aren't all that lucky. So I'm typing up a little list of must-haves:
- An Eres bikini and a floaty Missoni cover-up at the beach
- A printed DVF wrap dress and classic leather Louboutin slingbacks for posh nights out
- A Milly printed shift and Stella McCartney sandals for 'sightseeing'
- An ivory 3.1 Philip Lim blouse and grey linen Development pants for browsing their Bergdorf Goodman's & Barney's (You can take the girl out of the Upper East Side, but you can't take the Upper East Side out of the girl)
- Catherine Malandrino long cashmere cardigan , Hermès headscarf and dark Tom Ford shades for the airport (You don't want people ogling and harassing you while you try to get back home, do you?)
- And last on the list is a full set of Goyard Luggaage, hat box and all.
If ever you're feeling down during your vacation (although I don't see why you should be), just think of how much fun I'm having in St Barths: it always perks me right up. And if that doesn't work, order a chilled bottle of Dom and drink to heart's content. Then at least you'll have forgotten why you were sad in the first place!
You know you love me,
Okay, so maybe I'm not Gossip Girl. And maybe I'm not flying Air Chanel. And yes, it might not be true that I have a full set of Goyard luggage. But I'm in Gossip Girl withdrawal after finishing the eleventh book recently, and after many trips to Chapters (which were not very fructuous, might I add) I had yet to find a book that was of the same calibur. That is, until I found 'Back Talk' and 'Orange is the New Pink' which kept me content. Anyways, I didn't write that entire letter for nothing, I actually am departing for the other side of the country in the short span of two days. And although the clothing I packed isn't as 'mature' and not to mention expensive as that of Gossip Girl, I still put just as much thought into it. "What did she pack?" Might you ask? Well, to that I say, take a look: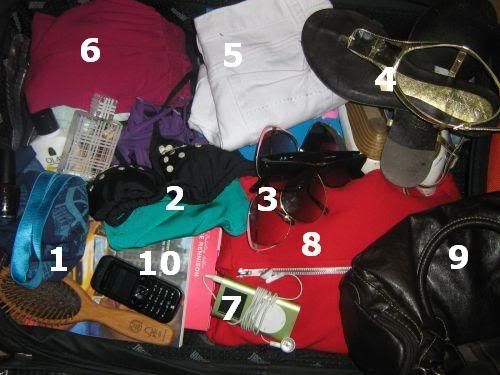 1 - Miscellaneous hair accessories and beauty products:
blue elastic American Apparel headband, boat-print Uranium neckerchief, OPI Lincoln Park After Dark nail polish, Olay SPF 15 All Day Complete face lotion, Burberry Brit perfume.
2 - Bathing suits:
black 'sequined' triangle bikini top from Old Navy, serpent green American Apparel flat bikini bottom, and hidden beneath that ensemble lies
the hellish and ratty old back up bathing suit.
3 - Three pairs of sunglasses:
Since my future is so bright, I've got some faux wayfarers, oversized pink metal frames, and some aviators.
4 - Flat t-bar sandals:
Shelly's London.
5 - White denim shorts & white jeans:
What else is there to say?
6 - Cotton day dress:
American Apparel shift dress in raspberry
7 - iPod mini:
To stave off boredom and drown out infants' cries.
8 - Zip-up Hoody:
Red American Apparel California Flex Fleece Zip Hoody. Wow, what a mouthful.
9 - Bag:
A cheap handbag for all my carrying needs.
10 - Books:
Again with the staving off boredom, but without the noise blocking advantage, unfortunately.
Along with all of the items I've enumerated, there are more shoes, shirts, jeans, shorts and of course skivvies. But you didn't really need to know that, did you? On another related note, I'm sorry to announce that I'll be taking a brief hiatus from blogging during my trip. More specifically, until the fifteenth of August. Maybe not so brief. But I'm convinced Zoë will keep you content and filled with fashion.
Jessica.