Maybe it's the insane amount of Lloyd Banks, Ludacris & Lil' Jon that has been delivered daily to my brain recently, or maybe it's because I yearn for some ice other than the cubed substance in my freezer. But I've become obsessed with diamonds. It might seem a little obvious that a girl loves diamonds, thanks to Marilyn Monroe, but I never really had an fixation with them. Now I do. Materialistic? Sure.
So, I decided to make my own shirt high in bling voltage: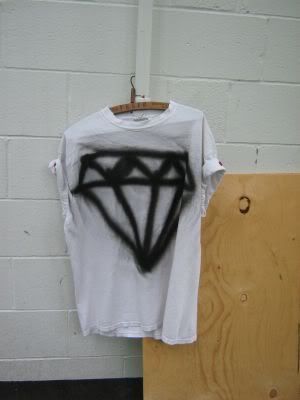 I suppose the fact that it's a spray-painted diamond helps the irony. Considering that this is a one-of-a-kind piece, you can get your fix of bling with this:
$10 at www.threadless.com, design by Ray Fenwick.
Jessica.